Today, MoAA is proud to present my friend from Heroes*Con, artist Del Hewitt Jr.!
*********************
Alethea Kontis: What's your preferred medium?
Delbert Hewitt, Jr: My medium of choice is ole pencil and comic book board lol! I do paint with acrylics from time to time. I usually do all my commissioned portraits in acrylics on watercolor paper. I'm dying to get my hands on a cintiq!
AK: What's the best thing about art?
DHJ: Art is freedom! It's so relaxing and fun that hours has passed without me realizing it. I love that art is so free that you can make happy mistakes. I mean that you could spill water on your piece and all of a sudden you have created by accident something so cool.
AK: What's the worst thing about art?
DHJ: It takes time! I wish I could create art faster but I'm slow L. It's hard but time is very valuable and I have to schedule everything. That way I don't wastetime. Having a wife and three kids makes you really value your time.
AK: Finish this sentence: "Art is like…"
DHJ: Art is like a mango. A young and unripen mango is hard and uneatable. With time a mango will ripen. A mango will become soft and juicy ready to be eaten by peeling off the skin. Art is like that it takes time and many hours of work to be ready. As a painter of acrylics, I work in layers so each hour I do a layer at a time until all the elements are ready to be viewed.
AK: If you could draw/sketch/paint anywhere in the world, where would it be?
DHJ: U.S. Virgin Islands where I grew up is a awesome place. My entire family is still there and I would love to go back where I first started drawing and creating. It doesn't hurt they have one of the top ten beaches in the world! Korea is a close second, where they make animation. I love Anime and that was my inspiration for my web comic Kings of the Wastelands. I want to see place where they produce such gorgeous work. The place itself is beautiful.
AK: Pick five words to describe your latest work.
DHJ: Action Movement Fluid Chaos Wildlife
AK: Pick five words to describe you.
DHJ: Quiet Nice Respectful Playful Polite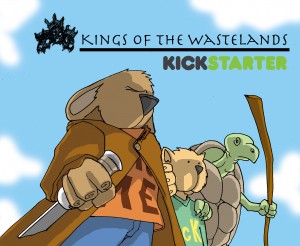 AK: What's your favorite type of tree?
DHJ: Gooseberry tree
AK: What were you like in high school?
DHJ: Gentle Gaint I have always been tall quiet soft spoken to myself. I've grown a lot since then lol.
AK: If you could give one piece of advice (artistic or otherwise), what would it be?
DHJ: Create art. If your 6 years old or 100 years old and you love art? Then don't wait for classes just do it all the time. Draw till your fingers fall off. The only way you get better is to practice. Whatever you want to do just do it and do now. Get your degrees and get your schooling  but ultimately it comes down to how bad you want it. If your hungry then it doesn't matter what hurdle lies in your way. You will never win the race if you don't run in the race. Artist run that race and win!
AK: The Colin Harvey Memorial Question: What are 3 things you'd like to do before you die?
DHJ: Never thought about that before.1 Lets see I would love to win eisner awards! It would mean a lot to be recognized by my peers at some point.2 See my wife and kids grow old and look back laughing at all things we did along the way.3 build my dream house in the U.S. Virgin Islands.
*********************
Delbert Hewitt, Jr. was born in New York and raised in the U.S. Virgin Islands. He got into art after picking up a Punisher War Journal penciled by Jim Lee. Then his eyes were really opened by John Byrne's X-men run! Following his dream of getting into Comics he went to the Atlanta College of Art in 1994. He Graduated from the Atlanta College of Art in 1998 with a BFA in Illustration. He has worked freelance since his graduation date. He has completed work in acrylics, sequential art, and character designs. Currently he has 12 pages in The African American Superhero Anthology called Analog. He has a web comic called The Kings of the Wastelands which has a kickstarter running for issue one. Raising funds to get the first book printed. He wrote, penciled and inked the entire issue. He is looking forward to creating comics for a longtime to come.
Check out my Kings of the Wastelands Kickstarter here: http://www.kickstarter.com/projects/1011146139/the-kings-of-the-wastelands-issue-one
This is currently a webcomic here: http://thekingsofthewastelands.com/
Webcomicslist link here: http://www.thewebcomiclist.com/p/23148/The-Kings-of-the-Wastelands
Topwebcomics link to vote here: http://topwebcomics.com/vote/15095/default.aspx?id=15095
My deviant art page here: http://delhewittjr.deviantart.com/
The Kings of the Wastelands facebook fan page link: https://www.facebook.com/KingsOfTheWastelands