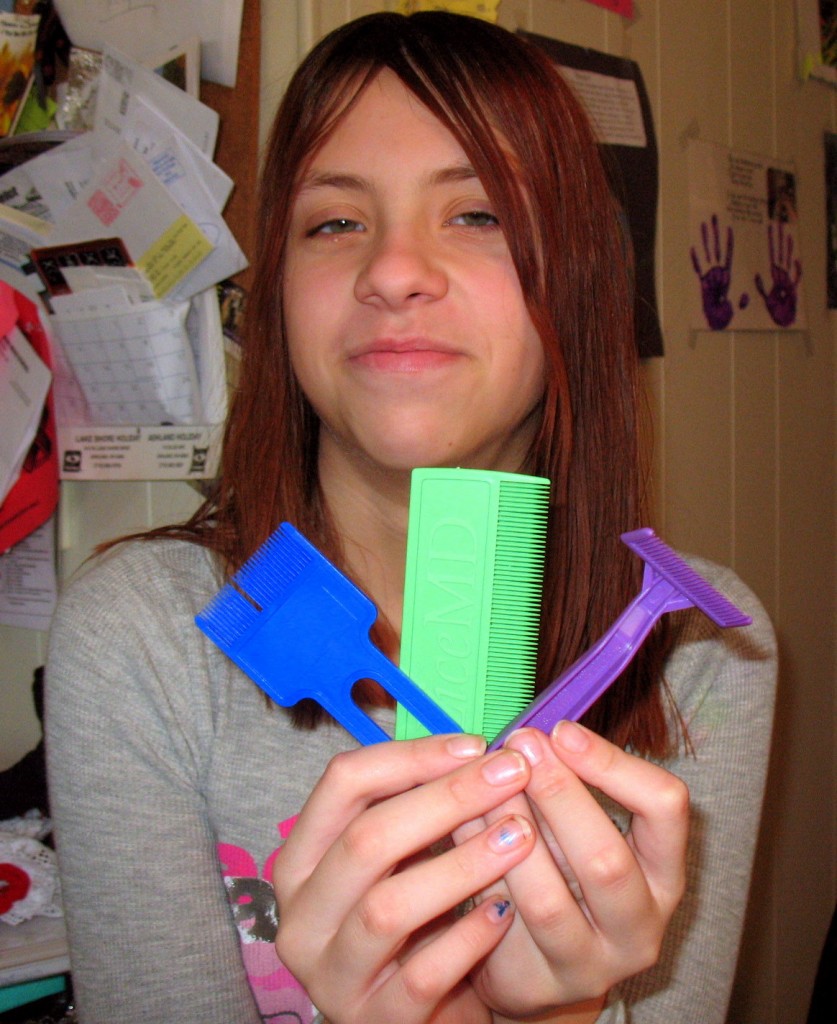 There is a moment from this weekend frozen in my mind: the girls are on the couch combing their lustrous clean locks, Tomo's patiently waiting to find out just what he's being sent to the drug store for this time, and I'm cross-legged on the floor between Della's legs as she sits above me on the couch, inspecting the itchy nape of my neck. Kelli slides to her knees in front of me and announces: "You know why Murphy created this weekend? Because we all needed something to blog about."
There is a moment of silence as the truth of her statement sinks in. And then: "Dibs on The Gift That Keeps on Giving as a title!" I yell.
"I get Shit Happens!" chimes Gypsy.
The hippie smiles and says, "Of Lice and Men," and we all double over in laughter.
It was a weekend for the history books, ladies and gentlemen — the kind that brings us all closer together and reminds us what really makes a family. Because birthdays shouldn't just be about fancy dresses and presents. They should be about laughter and love…and lice.
I've lived more life in the past six weeks than most people dare to live their whole lives. The parting of ways, the moving, the goodbyes, the journeys, the memories revisited, the sadness, the joy, and the pain. These weeks have given me everything I've wished for and then some. They have brought me new friends. They have made me sick. They have made me tired. They have given me hope for the future. My birthday marked the end of that journey. (The first chapter, anyway.)
In an effort to maintain what little sanity I had left, I postponed my Big Fabulous Party plans until later (possibly spring) and settled on a smallish get-together with only enough of my friends to fit around the dinner table (and their children). Oooh, a fancy dress party a la Mary Robinette Kowal's last year. That would be fun. Excellent idea! Nice, relaxing, and low-key.
Thursday night there was some drama. Some folks got upset…and then got over it. A Canadian arrived. I went to bed early. Friday was awesome. There was Scrabble and giggles and turtles. The zombie kind. Tomo came and brought his girls as one of my birthday presents–Ariell returned one of the books I had lent her over New Year's. There was dancing in the garage. We ate spaghetti. We remembered why we needed each other, and my worries went away.
And Ariell's head started to itch.
Early Saturday morning, there were dead bodies on the pillow and a very distraught almost-thirteen-year-old.
"So, I hear my present came with a bonus," I told her. She laughed.
Tomo went to the store and bought a two-pack of lice shampoo. Having been through this enough times in Elementary school with my sister, I knew a thing or two about Ye Olde Louse Comb. We'd nip this puppy in the bud, no worries. Ariell and I watched TV and bonded as I took my time combing her terminally tousled hair. We had no other plans. Dinner was five or six, the Eagles game started at eight — otherwise it was just us.
But the wimpy little shampoo didn't work. A few things in the house broke. The turkey was wonderful and the stuffing divine and I looked great in my dress…but around halftime we decided that a.) the Eagles weren't going to win the game and b.) we needed more lice shampoo. Not only was Ariell still finding Little Monsters, but the back of her neck was covered in bites. I was determined to conquer this once and for all.
I changed out of my dress and joined Tomo this time for the hunt…and was very surprised at what we discovered. 1.) There are many different brands of treatment available for lice, F.) There were not more than two boxes of any kind on the shelf, and 45.) I did not get yelled at for sitting on the floor in the grocery store for an extended period (but that's another story for another time).We bought three boxes — one for Tomo and one for each of his daughters, just to be safe.
I finished combing Ariell's hair for the third time sometime before 2am. "You realize this officially makes us sisters now." I told her. And then I went to bed and cried myself to sleep. I dreamt of lice and crazy psychosomatic itching.
Only…it wasn't psychosomatic.
Sunday morning brought us our third run — this time to the Rite Aid because we'd already bought out the Giant's stash of medicine — bringing our total brands of medication tried up to five. We were informed while checking out that "Yeah. the entire district has it" which just made us laugh. Because we didn't have local lice. Ours was imported from Virgina.
Only the best for Awesome Porch.
We broke a few more things this day — including the upstairs toilet — and while I had to wash my own hair it was Della who put in the gel and combed it out. Della…to whom I gave lice in the second grade all those years ago after she tried on my Brownie hat. It all comes full circle, doesn't it?
Lice is a thing. It happens. Whether or not it's a tragedy is only a matter of perspective. It brought us all to new levels of togetherness. It helped clean and spray the entire house. It taught us a lot, about lice and about each other. It provided a case study on the best lice medication to use (we all agree Lice MD is the best, the one with the green comb. It was the most successful, and was the least harsh to use on a poor sore head that's already been terrorized by Little Monsters).
Most of all, it caused a quarantine that forced the whole crew to stay one more night. I got to wake up on Monday — my actual birthday — and have cake and singing and breakfast with all my friends. My more than friends. My family.
So..thank you, Ariell. Little did you know, you brought me the greatest gift of all.
Lice.
Best birthday present EVAR.